---
You will sort and count money that is returned from a baby bottle drive and prepare it for deposit.
You'll help get the bottles clean and ready for the next campaign.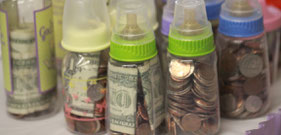 You are willing to serve about 2-5 hours every other week (or as needed).
You have the flexibility to come to the center within a few days of bottles being returned.
You have agile fingers.
Get a good rating on a background check (criminal history and sex offender). 
You are detailed-oriented and can keep accurate records for giving receipts.
You like repetitive work tasks that allow you to chat with others while you do it.
You'll learn how to use a commercial-grade coin counting machine at a local bank.
You prefer to serve behind the scenes and out of the limelight.